SUVs in particular car-based crossover that are built on unibody platforms continue to outperform the overall industry in the U.S. new-vehicle sales market. These popular sport utility models posted the highest increases among all vehicle segments. That is making the competition for the marker share even higher. The flexibility that is a SUV's characteristic leaded to the adverse result of almost identical cars being produced. The manufacturer's answer is lowering the prices to be able to keep the market share. That is a very good news for all consumers as the quality of the vehicles as has never been better and also they are now available on a profitable price. The following list of SUVs describes a few examples of vehicles that are trying to stay on the marker or conquer new ones by simply lowering their prices.
1. Nissan Murano $29,740
The stylish Nissan Murano has a starting price of $30,000 and that makes it an unbelievably good deal. It offers a great value vs price with its interior, built-in extras and reliability that are usually expected from other brands that are offered from European manufacturers. Nissan managed to deliver a mix of proper performance and consumer comfort with the Murano.
2. Ford Edge $28,950
The Ford Edge is a crossover that offers a daring styling, relaxed ride, and sizable cargo bay, that makes it worth considering. The Edge has plenty of technology features included like Sync 3 touchscreen infotainment, a self-parking feature, adaptive cruise control, and lane-keep assist. Equipped with a lot of options to choose from and its competitive pricing Ford Edge is making its way to conquer the market.
3. Kia Sorrento $25,600
The Sorento is functional and refined, and its wide price range makes it an alternative to small and midsized SUVs. The Sorento comes with the one of the stronger warranties in its segment – 10 years/100,000km. No matter if that is strategical marketing trick it makes the consumers look for the companies offers. The Sorento is a value-oriented rides for those looking to buy a minivan with good looks and utility.
4. Hyundai Sante Fe $25,350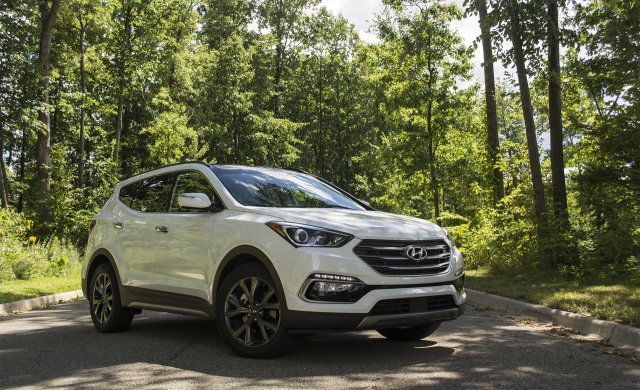 The Hyundai Santa Fe has a handsome styling that stands out from the SUV herd. The company managed to create an amazing SUV and to deliver it to the market on even more amazing price. Santa Fe has a lot of technological features and it is very pleasant to drive. One of the great features it got is the settled, compliant ride that blunts pavement imperfections and lets the SUV sail smoothly on the highway. That makes it very popular choice for a family car.
5. Honda CR-V $24,045
Honda CR-V was built with consumer comfortable in mind and the Japanese manufacturer is offering exactly that on the market. Both CR-V and the HR-V are delivering very promising performances and quality. The CR-V has a supportive seats and a firm but supple ride and the interior is quiet, handsome, and roomy. It is here to prove its reliability and competence.
6. Hyundai Tucson SE $23,595
The Tucson is one of the better small SUVs. For its starting price of $24,000 it comes with a lot of interesting features. The touchscreen infotainment with satellite radio is standard. Limited models have nav and leather seats. The rear seat is roomy, and controls are easy to use. It also has some advanced safety features, including automatic emergency braking and blind-spot monitoring, are optional.
7. Subaru Forester 2.5i $23,470
The Forester delivers a spacious interior, impressive safety equipment and crashworthiness, and outstanding visibility in a right-sized, affordable package. It has a great fuel economy at 26 mpg overall, especially the standard AWD. The ride is supple, and handling is very secure. That starting price is $24,000 which for the quality offered is a go-getter deal. The exterior could be a bit repulsive but the drive comfort compensates that for sure. Overall the Forester is a genuinely useful crossover with room, a view, and last but not least utility.
8. Mazda CX-5 Sport $22,735
The Mazda-CX-5 is may look like the original CX-5, but the latest version is thoroughly redesigned and much improved. The starting price of $23,000 proves that Mazda could offer a less premium range on a reasonable price. Handling is responsive and enjoyable, and the ride is absorbent and steady, among the best in this class. The cabin is quiet, and interior quality now feels substantial and looks attractive.
9. Subaru Crosstrek 2.0i $22,570
The Crosstrek with its standard all-wheel drive and 8.7 inches of ground clearance set the stage for adventure. It has an impressive ride quality, allowing for a smoother, more comfortable experience. The sedately styled interior is simple, with supportive front seats and good outward visibility. This Crosstrek benefits from the new platform used for the Impreza. The standars price is $23,000 and should definitely earn more popularity than its currently receiving.
10. Dodge Journey SE $22,240
The Journey is one of the biggest SUV on the list and its low price could be addressed to its below-average reliability and poor performance. However it has attractive and comfortable interior that offers plenty of storage and can be outfitted with seats for five or seven. Buyers get a choice between a 173-hp 2.4-liter four or a 283-hp 3.6-liter V-6 as well as front- or all-wheel drive. The driving experience is also not something to be excited about and overall the Journey feels outdates which is also noticeable by its lower price.
11. Chevrolet Trax LS $21,895
The Trax is not the most adventurous choice on the market but it does offer some interesting features. It has a roomy cabin and is powered by a 138-hp 1.4-liter turbo four with a six-speed automatic; take your pick of either front- or all-wheel drive. Steering feedback is okay and the ride is smooth, but is tuned more for comfort than sport. Updates are always welcome and expected here but meanwhile Chevy are keeping the price lower enough to stay on the market.
12. Nissan Juke S $21,190
The funky-looking Juke has the raised ride height and optional AWD of an SUV, but with very carlike handling and maneuverability. A continuously variable transmission is standard. It's powered by a 188-hp 1.6-liter turbo four-cylinder with front-wheel drive; all-wheel drive is optional. Unfortunately, a CVT is the only available transmission, which makes the driving experience less enjoyable. Juke is perfect for those who want a spry and speedy little runabout that also stands out in traffic.
13. Fiat 500X Pop $20,990
Grown up but still cheeky, the 500X complements its minuscule sibling, the Fiat 500, by offering more space and all-weather capability while retaining its classic Italian style. However that is clearly not enough as it is the worst selling car for the first quarter with 50% fall compared to the first quarter in 2016 and only 1.966 sold copies. It is very concerning as the model shares most of the mechanical components with the 500X which is considered to be the bestselling model that FCA group placed on the market.
14. Jeep Compass Sport $20,935
Jeep Compass now in its second generation boasts sharp looks and all-terrain talent at an easy-to-swallow price starting at $20,900. However in spite the good feedback both from the press and the customers it sales figures appear to be very disappointing. One of the explanations for these poor results could be the upcoming release of the new Compass Q2 which is about to replace the Compass and Patriot. Stay tuned as Jeep may have some great new deals to offer shortly.
15. Mazda CX-3 Sport $20,860
We'll begin with small sized subcompact SUVs. Mazdas's CX-3 model is a great example to start with. The CX-3 relies on its sport-tuned suspension and creative weight-saving measures to maintain Mazda's unique brand of driving pleasure. A 146-hp 2.0-liter four-cylinder and a six-speed automatic with front-wheel drive provide the zoom-zoom; all-wheel drive is optional and it starts at $20.900.
16. Mitsubishi Outlander Sport ES $20,690
The Outlander Sport has a very distinctive exterior and it is reliable and shows a very good performance for a small SUV. The interior is quiet, with room for seven in three rows of seats. The base engine is a 166-hp 2.4-liter four mated to a CVT with front-wheel drive; all-wheel drive is optional. The overall value and performance are good and for the starting price of $21,000 it is worth checking out.
17. Honda HR-V LX $20,405
The Honda-HR-V has an attractive design that lends it a sporty look while also being a budget-friendly choice. Considerably smaller and less expensive than the CR-V, the HR-V is loud and the ride is stiff. Handling is responsive and secure. Power comes from a 141-hp four-cylinder driving either the front or all four wheels. But the HR-V feels underpowered, an impression amplified by the continuously variable transmission. Although it lacks some of the active safety features offered among its competitors it still has a few to offer.
18. Jeep Patriot Sport $19,035
The Patriot SUV has a compliant ride and mostly simple controls but something else stands out other than its temptingly low price. It is seriously outdated and outclassed by the majority of the small-SUV class. The new Jeep Compass is on its way to replace the Patriot and the Compass Sport. Those seeking an affordable off-roader should check out the Patriot—but move fast, as this is likely its last year on sale. The manufacturer will be replacing it from its segment to make a room for new exiting vehicles.
19. Jeep Renegade Sport $18,990
The Renegade Sport has enticingly cute design and it is also capable off-road. A 160-hp turbo four offers a six-speed manual and either front- or all-wheel drive; a 180-hp four with a nine-speed automatic is also available. The interior has comfy seats and ample cargo room. Responsive steering, a comfortable ride, and good brakes make the Renegade capable on-road, too. The lack of standard features like air conditioner is a bit inconvenient even though the starting price is $19,000.
20. Kia Soul Base $16,995
The Kia Soul is not just a quirky design, it packs abundant interior space, with chair-like seats and big windows providing an excellent view out. Though fundamentally a budget hatchback, the Soul can be an SUV alternative, functionality-wise. Power delivery from the 2.0-liter four-cylinder feels just adequate, and its 26 mpg overall is not outstanding. Apple CarPlay and Android Auto are standard at this price point, and a panoramic sunroof is optional. The Kia Soul is truly fun and practical, which makes it the preferred choice by many consumers.